Jack Link's
Jack Link's, Original Biltong.

Jack Link's Biltong Original Beef is made with premium lean cuts of beef and is seasoned with a unique spice blend. The difference with Beef Jerky is that Biltong is never smoked and is made with alcohol vinegar. Biltong also has a slower drying time than Beef Jerky.

----
Ingredients: Beef, vinegar, salt, spices (coriander, white pepper, garlic, black pepper, paprika, nutmeg, cloves, cayenne pepper, chili), sugar, dextrose, preservative (sodium nitrite, potassium sorbate), corn starch, onion, tomato, yeast extract, acidity regulator (sodium acetates, citric acid), smoke flavor, herbal extracts (paprika, garlic)
Share
Interested in B2B orders? Apply for an account!
View full details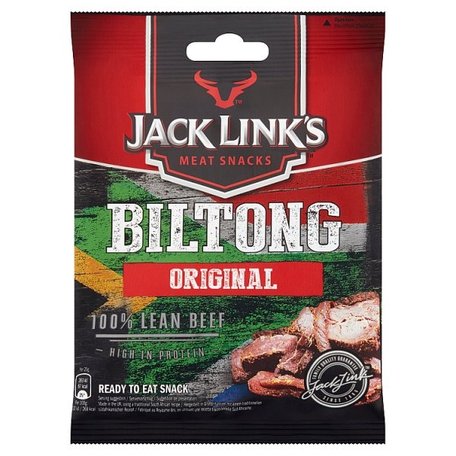 Commonly asked questions
Do I need to register on your website to place an order?

Yes, you will have to apply for an account.
We will verify your company information before approval. After
approval, your account will be activated, you will then have access to
our product prices, stock lists and special promotions.
What is the minimum order at EPIC Food Supply?

The minimum order is 1 pallet ex-works.
Why are there no product prices listed?

You will have to apply for an account first.
After approval by a sales representative you will gain access to our
app and the stock lists, prices and special promotions will be visible.